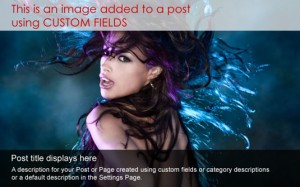 Version 3.2.3 sorts out a compatibility issue with WP 3.0 (still in beta at time of writing), which was causing a "white screen" problem in Admin. This was due to changes in the way WP 3.0 handles contextual help.
Note: this fix maintains compatibility with WP 2.8+, therefore is perfectly safe to install on sites not yet using WP 3.0 beta.
Changelog for version 3.2.3
Bug fix: Fixes contextual help compatibility issue with WP3.0
Where to get the plugin and Resources
For full information about the plugin, including download link, demo, installation/upgrading, a configuration guide and comprehensive documentation, can be found here:
Support
Please refer to the pages linked to above. If you still need support, post your question on the Support Forum.
Thanks for downloading the plugin. Enjoy!
If you have found the plugin useful, please consider a Donation to help me continue to invest the time and effort in maintaining and improving this plugin. Thank you!