Adds a column to the Edit Pages Dashboard screen displaying the Page Template assigned to each Page. Compatible with WordPress Multisite. Requires WordPress version 3.1 or greater.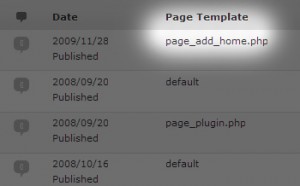 Download
Compatibility
Current version of the plugin: 1.3.1
Requires at least: WordPress 3.1
Compatible up to: WordPress 4.1.4
Description
This plugin adds a column to the Edit Pages screen in the Dashboard which displays the Page Template filename assigned to each Page. This gives you an at-a-glance overview of the Page Templates assigned to Pages, without having to open each Page to find out. The new column is sortable too!
This is a very simple plugin. Just install, activate and forget about it.
Installation
Either use the WordPress Plugin Installer (Dashboard > Plugins > Add New, then search for "custom taxonomies menu widget"), or manually as follows:
Download the latest version of the plugin to your computer.
Extract and upload the folder reveal-page-templates to your /wp-content/plugins/ directory. Please ensure that you do not rename any folder or filenames in the process.
Activate the plugin in your Dashboard via the "Plugins" menu.
Note for Wordpress Multisite users:
Install the plugin in your /plugins/ directory (do not install in the /mu-plugins/ directory).
In order for this plugin to be visible to blog owners, the plugin has to be activated for each blog by the Site Administrator.
Upgrading from a previous version
You can use the Wordpress Automatic Plugin upgrade link in the Dashboard Plugins menu to automatically upgrade the plugin.
Screenshots