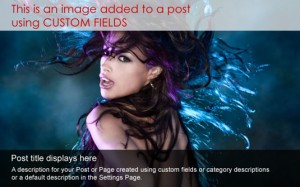 Version 3.2.2 sorts out a couple of bugs which needed fixing, and updates the Settings page text to reflect the use of the new DCG Metabox introduced in version 3.2.
Although this release is hard on the heels of the previous maintenance release, I prefer to give users the benefit of these fixes straightaway, so please upgrade to keep up to date.
Once again, many thanks to a couple of users who have been great help in assisting me track down these issues so quickly. Much appreciated!
But there's a nice surprise in here too – a feature I've been planning for a long time – a Dynamic Content Gallery Widget! This will be really useful for those of you using theme frameworks such as the excellent Genesis Framework from Studiopress.
Using the DCG Widget
Once you've installed the new version 3.2.2, go to your Dashboard>Appearance>Widgets page and you should see the Dynamic Content Gallery Widget ready for use.
The Dynamic Content Gallery Widget control panel (see screenshot) gives you some options:
Title above DCG: Optional title text to display above the gallery.
Text after DCG: Optional text to display below the gallery. Just like a normal Text Widget, you can post HTML code here too. Additionally, there's a checkbox if you want WordPress to automatically insert paragraph tags in your "Text after DCG" content.
There are just a couple of points that you should be aware of when using the widget:
Don't try to use the DCG Widget and the DCG template tag on the same page. It won't work and only one gallery will be displayed. All the gallery options are set, as usual, in the plugin's Settings page. You can use the DCG Widget in more than one widget area, but the gallery will always display the same content in each area. In other words, it's not possible to run multiple versions of the gallery showing different content. If using the widget more than once, pay attention to the Restrict Scripts options in the Settings page – the scripts need to be loaded on each page which displays the gallery.
Changelog for version 3.2.2
Feature: DCG Widget added
Enhance: Updated dfcg_ui_1_image_wp() info re DCG Metabox
Enhance: Updated dfcg_ui_multi_wp() info re DCG Metabox
Enhance: Updated dfcg_ui_onecat_wp() info re DCG Metabox
Enhance: Updated dfcg_ui_pages_wp() info re DCG Metabox
Enhance: Updated dfcg_ui_defdesc() info re DCG Metabox
Enhance: Updated dfcg_ui_columns() info re DCG Metabox
Enhance: Updated dfcg_ui_create_wpmu() info re DCG Metabox
Enhance: Updated contextual help text in dfcg_admin_help_content() re DCG Metabox
Bug fix: Added conditional tags to add_action, add_filter hooks in main plugin file
Where to get the plugin and Resources
For full information about the plugin, including download link, demo, installation/upgrading, a configuration guide and comprehensive documentation, can be found here:
Support
Please refer to the pages linked to above. If you still need support, post your question on the Support Forum.
Thanks for downloading the plugin. Enjoy!
If you have found the plugin useful, please consider a Donation to help me continue to invest the time and effort in maintaining and improving this plugin. Thank you!