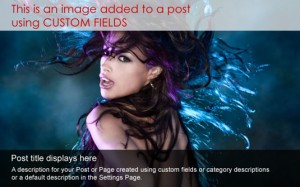 Unfortunately, a few bugs slipped through the net in the 3.2 release, hence this maintenance release to deal with these issues. As one of the bugs was critical for Partial URL users, I decided to issue an upgrade asap without waiting for the next feature release.
The main bug fix is the handling of the image URL when using Partial URL image file management. The new Metabox in Write Post/Page was adding an unwanted http:// to the front of the image URL. If you use Full URL you were not affected by this bug.
Many thanks to a couple of users who have been great help in assisting me track down these issues so quickly. Much appreciated!
Changelog for version 3.2.1
Bug fix: Fixed PHP warning on undefined index when _dfcg-exclude is unchecked
Bug fix: Fixed missing arg error in dfcg_add_metabox() (in dfcg-admin-metaboxes.php)
Bug fix: Fixed metabox error of adding extra http:// when using Partial URL settings (dfcg-admin-metaboxes.php)
Bug fix: Added sanitisation routine to dfcg_save_metabox_data() to remove leading slash when using Partial URL setting
Bug fix: Increased sanitisation cat01 etc char limit to 6 chars to avoid problems with large cat IDs
Open tickets
A couple of reported bugs haven't been fixed in this release:
PHP error when using Windows Live Writer
PHP warning when Scheduling a post

Where to get the plugin and Resources

For full information about the plugin, including download link, demo, installation/upgrading, a configuration guide and comprehensive documentation, can be found here:

Support

Please refer to the pages linked to above. If you still need support, post your question on the Support Forum.

Thanks for downloading the plugin. Enjoy!

If you have found the plugin useful, please consider a Donation to help me continue to invest the time and effort in maintaining and improving this plugin. Thank you!