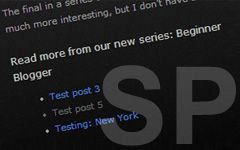 I'm pleased to announce a new version (1.2) of the Serial Posts plugin for WordPress and WPMU.
This plugin allows you to assign a Serial name, using custom fields, to your Posts and Pages and then automatically displays a list of other Posts/Pages which have the same Serial name when viewing a Post or Page which belongs to the same Serial name.
New features and some bug-fixes
This upgrade fixes a couple of minor bugs (see Changelog for details), and adds some additional long-planned new features:
Choice of UL or OL tag for the Serial Posts list, giving more flexibility for how to display the list of posts.
Added a new CSS class "serial-posts-heading" to the list's h3 tag
Where to get the plugin and Resources
For full information about the plugin, including download link, a configuration guide, tutorial and FAQ, can be found here:
Features
NEW in 1.2

– New option for selecting UL or OL tags for the list, and new CSS class for the list heading.
The Serial Posts list can be displayed using either the "serialposts" shortcode in the Write Post/Page Editor, or by using the Serial Posts template tag in your theme template files.
The position of the Serial Posts list on your page is determined by where you insert the shortcode in your post, or where you insert the Serial Posts template tag in your template file.
You can create as many different Serials as you wish. Limitation: Currently it is not possible to assign more than one Serial name to any one Post or Page.
User options for including the currently viewed post in the list, with or without a link.
Configurable Heading for the Serial Posts list.
Valid xhtml output.
Highly customisable CSS styling of the Heading and Serial Posts list.
Note: Version 1.2 requires WP/WPMU 2.8+
Support
Please refer to the pages linked to above. If you still need support, post your question on the Support Forum.
Thanks for downloading the plugin. Enjoy!
If you have found the plugin useful, please consider a Donation to help me continue to invest the time and effort in maintaining and improving this plugin. Thank you!