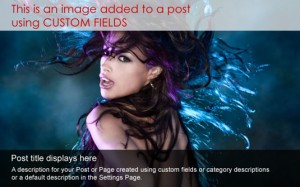 Version 3.3.4 fixes a couple of bugs with the jQuery script and, as a bonus, adds a couple of new user options in the DCG Settings page.
Hopefully (fingers, toes, arms and everything else crossed), version 2.7.5 of the jQuery script fixes the irritating image alignment issue caused by a conflict with the Adblock browser add-on for Safari and Chrome. Additionally, the new v2.7.5 jQuery script fixes a vertical image alignment issue, and now centers the images vertically within the gallery in the event the image height is less than the gallery height setting. In other words, it should now behave like the Mootools script in this regard.
As well as these bug fixes, the new version of the DCG also adds two new user options to the DCG Settings:
Option to not animate the Slide Pane (jQuery only)
Option to change the gallery background colour (jQuery and Mootools).
Additionally, I've taken this opportunity to tart up the DCG Metabox styles so that they look rather more spiffing than they did before!
PS: Don't get confused about version numbers – I version control the javascripts as well as the plugin itself – the new version number of the DCG is 3.3.4.
Version 3.3.4 Information
Requirements
Plugin version: 3.3.4
Requires WordPress version: 3.0
Tested up to WordPress version: 3.0.2
Changelog
Released: 1 December 2010
Feature: Gallery background colour option added
Feature: on/off option for Slide Pane animation added to jQuery script (v2.6)
Enhance: Tidied up DCG Metabox markup and contents
Bug fix: jQuery script conflict with Adblock browser add-on fixed (v2.7)
Bug fix: jQuery script vertical image alignment with small images fixed (v2.7.5)
Bug fix: Fixed PHP warning re undefined $cat_selected variable in dfcg-gallery-constructors-jq-smooth.php
Resources
And finally…
Many thanks once again to those users who posted useful feedback on the support forum and helped me track down these issues – especially to those who perservered and helped identify the Adblock conflict. Thanks!