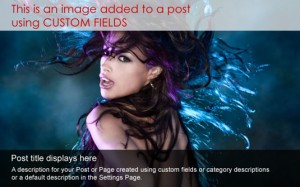 Version 3.3.3 fixes a couple of bugs with the jQuery script. No new features are added with this release – it's just a bug-fix in preparation for 3.4 which will be released by the end of the year.
The key issues solved are: sorting out a z-index issue concerning the main gallery image; fixing the image link disappearing when the navigation arrows are disabled in the Settings; fixing the image link in IE browser.
Additionally, the script itself has now been upgraded to v2.5 and, in addition to the issues mentioned above, also fixes problems with the carousel thumbnails in Chrome and IE.
Version 3.3.3 Information
Requirements
Plugin version: 3.3.3
Requires WordPress version: 3.0
Tested up to WordPress version: 3.0.1
Changelog
Released: 7 November 2010
Bug fix: Upgraded jQuery script to v2.5 to fix IE img alignment, and non-linking img when showArrows is off
Bug fix: Added z-index:1; to #dfcg-fullsize selector in dfcg-gallery-jquery-smooth-styles.php
Bug fix: Fixed slide pane padding issue in #dfcg-text selector in dfcg-gallery-jquery-smooth-styles.php
Bug fix: Fixed IE img link disappearing. Changed CSS in #dfcg-imglink in dfcg-gallery-jquery-smooth-styles.php
Resources
And finally…
Many thanks once again to those users who posted useful feedback on the support forum and helped me track down these issues in such a short time frame. Thanks! 🙂