Please note, I have just released a further update, version 1.2.1, to fix a bug reported by a user. I don't normally like issuing a patch so soon after a new release, but in this case it was necessary.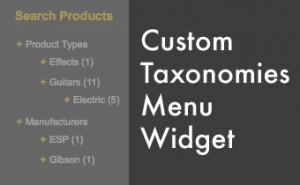 I'm pleased to announce the release of version 1.2 of the Custom Taxonomies Menu Widget for WordPress.
I took the opportunity of Christmas downtime to substantially re-write the plugin, squash some minor bugs, tweak the code and add a major new feature. Check out the Changelog for more info.
Automatically adds new terms
The new feature added with this release is that the plugin will automatically add new terms to the menu. Several users had commented that the original behaviour – that new terms are not automatically displayed – was both unexpected and a little irritating. I agree, hence the update.
How it works is like this: the plugin now "remembers" how many terms were in a taxonomy when the widget form was last saved, and then compares this list of "known" terms with the actual terms available on the install when the menu is output on the front end. In order to reduce the very slight performance hit this introduces, the "known" terms comparison is only performed for taxonomies which are selected for display in the menu.
Those of you using the menu in a fast changing ecommerce environment, where terms are being added all the time in response to stock changes, will appreciate the update – I hope!
Version 1.2 Information
Requirements
Requires WordPress version: 3.2
Tested up to WordPress version: 3.3
Resources
And finally…
If you need support, please post a question on my forum. I rarely monitor the WordPress.org forums, so you are guaranteed a quicker response by posting your question on my site. Thanks!