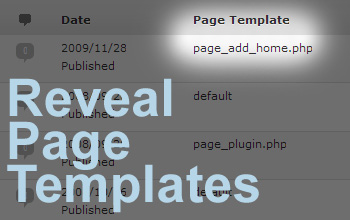 I often use a variety of Page Templates when creating WordPress sites, which means that sometimes it gets a bit confusing remembering which Page Template is assigned to which Page.
Sure, I can open up the individual Page and take a look, but often I just want quick confirmation that a particular Page Template has been assigned to a certain Page. Hence this plugin – an easy way to have an at-a-glance view of the Page Templates assigned to Pages.
Reveal Page Templates plugin for WordPress
This little plugin does just that – it adds an extra column to the Dashboard Edit Pages screen, and displays the filename of the Page Template assigned to each Page.
Download and Installation
Reveal Page Templates version 1.0 can be downloaded from here.
Installation and related information can be found on the dedicated Reveal Page Templates home page.
Support and Resources
This plugin is provided free of charge without warranty. In the event you experience problems you should visit these resources:
If, having referred to the above resources, you still need assistance, visit the Support Forum Support is provided in my free time but every effort will be made to respond to support queries as quickly as possible. I do not have time to monitor the wordpress.org forums, therefore please post any questions on my site's forum.
Thanks for downloading the plugin. Enjoy!
If you have found the plugin useful, please consider a Donation to help me continue to invest the time and effort in maintaining and improving this plugin. Thank you!
If you find any bugs, or have suggestions for future features, please leave a message on the Support Forum.