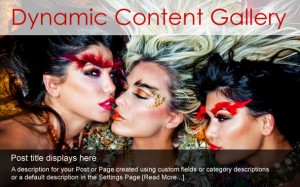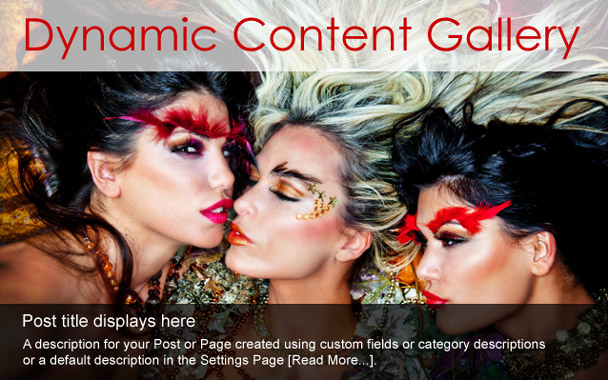 I am pleased to announce that a beta of version 4.0 of the Dynamic Content Gallery plugin for WordPress is now available for download and testing.>
Note that as the next version has a huge number of changes and improvements, the version numbering will jump from the existing 3.3.5 to 4.0.
All of the features discussed in my Dynamic Content Gallery Development plans article have made it through to beta, the most significant being that the "Auto" Image Management mode now uses Featured Images, rather than the first image attachment. This makes it mega easy to change the DCG image by just re-setting the Featured Image in relevant posts/Pages. Additionally, the DCG will create its own image sizes, based on the user's Gallery width and height settings, so that correctly sized images are automatically created during the image upload process. Another added feature is the ability to override the Featured Image by entering an image URL in the in-post DCG Metabox.
Please refer to the Dynamic Content Gallery Development plans article for more info regarding image sizing and the improved DCG Metabox functionality.
I think many of you will find the using Featured Images a much better way of assigning images to the DCG – especially those who, until now, have preferred to use the Full or Partial image management options due to the relative inflexibility of the current "first image attachment" functionality of Auto mode. I expect (hope?) that many people will switch to using Featured Images as a result of this improvement.
Requirements
You must be running WP 3.3 beta 3 or Nightly Builds.
It is recommended that you use WP_DEBUG so that you can report PHP errors, if any, that are thrown by the plugin. (There shouldn't be any, according to my testing, but just in case…)
With the new image sizing, any images uploaded after installation of 4.0 beta will automatically have DCG image sizes created during the "Crunching…" process. However, it will be necessary to use a plugin such as the excellent Regenerate Thumbnails to create the new DCG image sizes for images already in the Media Library.
This is a development version of the plugin and you should NOT run this on a live, production site. I take absolutely no responsibility if you choose to install this on a live site and experience a subsequent problem; I will simply say "I told you so".
Download
You can download the beta from here (WordPress repository). Bear in mind that this is NOT a tagged release and therefore you will be running a trunk version of the DCG. This means that this "beta" is in constant development right up until the release of the tagged version 4.0 sometime in the next few weeks. As bugs are found and fixed, this development version will be updated. It is therefore recommended that you download fresh versions of the "beta" from time to time, to be able to test the latest version right up until final release.
Installation
As this is a development version you cannot install this via the WordPress plugin installer, you must do it manually via FTP.
Note if upgrading from an earlier build of 4.0 beta to a later build of 4.0 beta: simply delete the existing dynamic-content-gallery-plugin folder from your wp-content/plugins directory, and upload the new version via FTP (unzip it first on your local machine before uploading). To be sure that any new settings are handled correctly, go to the DCG Settings page and click Save Changes. This will ensure that the settings in your database are up to date.
Reporting bugs
The whole point of a beta release is to get feedback from users and identify any bugs that may be lurking within. Therefore, please do let me have your feedback – especially if you have problems – so that I can fix these before final release.
Please report bugs here. Thanks.
Please note: although I have done a lot of testing on my own WP Multisite test install, I will really appreciate feedback from those of you who are using Multisite. Thanks!
Release notes
As mentioned earlier, the most significant feature of the new version is that Auto mode now uses Featured Images. To get the best results from this, for images which have already been uploaded prior to installation of v4.0 beta, you need to install the Regenerate Thumbnails plugin so that you can generate the correct DCG-specific image sizes for these images. Images uploaded after installation of DCG v4.0 beta will automatically have the correct image sizes created during the upload "crunching…" process.
This is a beta and therefore there are some rough edges here and there, such as some of the admin screens and the new Admin Bar contextual help, which are not 100% finished in terms of CSS and content. They should still work, however.
Here's a run down of the major new features:
Image Management: new option to use Featured Images. This replaces the previous "Auto" method.
Automatic image sizing: the plugin uses add_image_size() to create new sizes based on the Gallery dimensions set in the DCG Settings > Gallery CSS options. Bear in mind that you will need to re-run the Regenerate Thumbnails plugin each time you change the gallery dimensions.
DCG Metabox: a new feature is that if Image Management is set to Featured Images you can override the Featured Image by entering an image URL in the DCG Metabox. This can be useful if, for whatever reason, you don't want to use the Featured Image in the DCG for a particular post or Page.
Slide Pane Description: you can now use the post Excerpt as the Slide pane description.
Settings page: improved presentation of options – hopefully a bit more user-friendly for new users!
Bug squashing: tidied up some bugs and reorganised a lot of code.
Hope you enjoy it!