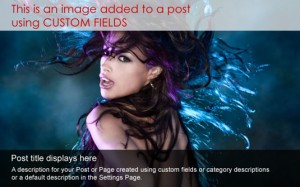 Unless you have been living under a rock in the middle of nowhere, the chances are that you have heard about WordPress Custom Post types.
Although already available in WordPress 2.9, there was very little documentation available, nor as much functionality as one would like in order to use them in many use cases.
Since then, the WP development team have made huge strides concerning Custom Post types and, happily, WordPress 3.0 makes them more accessible and easier to set up and use.
If you're not very familiar with Custom Post types, the resources listed below give a good overview of how they work and how to use them:
Please note that Custom Post Type support was added to the
Dynamic Content Gallery
with the release of version 3.3 on 14 September 2010. Therefore, the rest of this article is out of date!
DCG and Custom Post types
Currently, my Dynamic Content Gallery plugin does not support Custom Post types. What this means is that you can't display Custom Post "posts" in the DCG (only normal Posts and Pages). As I firmly believe that many WordPress users will, in the future, use Custom Post types, I feel that the DCG should be able to work with them and that I should factor this in to a future DCG release. The problem is that the solution to do this is not so simple, for the following reasons:
Custom Post types can be named anything (they're Custom, right?)
Admin "support", ie which normal Post features are available to Custom Post types, is entirely up to you (there's little by default, it has to be added using add_post_type_support.)
Although none of the above is a real headache, the DCG would need to be able to cope with the wide variety of Custom Post types setup that will be out there. Which brings me to the point of this post…
How will you use Custom Post types?
That's the question. Will you use them to create lots of different types of content on the same site? How would you like to use Custom Post types with the DCG? Alone, or with a mix of various Custom Post types, Posts and Pages? Your answers to these questions will be very useful to me, so feel free to leave a comments and suggestions below.
Thanks!