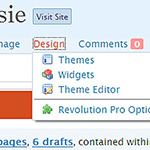 This is the FAQ page for the Admin Drop Down Menus plugin for WordPress.
Additional Resources:
Plugin Home Page | Version for WP 2.3 | FAQ | Support
Warning! This plugin has been retired. In view of the significant changes to the Dashboard introduced in WordPress 2.7, this plugin is no longer being developed and should not be used with WordPress 2.7+.
The information contained in this page is retained for reference purposes and for those users who are still using WP versions lower than 2.7.
Answers to frequently asked questions covering troubleshooting and configuration of this plugin. If you still can't find an answer to your question, please feel free to post a question in the Support Forum.
Does Admin Drop Down Menus for WP 2.5+ work with WP 2.6 onwards?

Yes! Well, at least it works perfectly for me on WP 2.6.2.

Why aren't my drop downs working properly?

The Admin Drop Down Menus does it stuff using javascript and it is possible that you have a javascript conflict with another plugin. Try disabling your plugins one by one to see which one is causing the conflict.

Can I use this plugin with WP 2.7 onwards?

No. This plugin is not compatible with WordPress 2.7 onwards. In fact, there's no need for such a plugin since WordPress 2.7 introduced a brand new, and much improved, menu system. If you are upgrading from an earlier version of WordPress to version 2.7+, you must deactivate this plugin.